One of the highlights of PAX for me was meeting Eli Hodapp from Touch Arcade, who despite being in high demand, stood and talked with me for quite some time about the humble beginnings or our company.  I can honestly say, he's a really great guy.
When he left, the other Showcase winners asked, 'did he put your game in his book?'
The book they were referring to is a small notebook he carries around to make note of games that Touch Arcade might want to review.  And apparently, if you make it in 'the book' it means, your game is on their radar.  Fortunately for us, Little Chomp made it into 'the book' and today, that notation has turned into a kickass review!  Thank you Eli and David Craddock!  We are so excited to get such a great review from Touch Arcade!
From the article:
Little Chomp came out of nowhere and charmed me with its smooth controls, variety of fun goals to check off, and absolutely vibrant graphics and crisp audio. At only a buck, you don't want to pass this one up.
Check out the full review of Little Chomp on Touch Arcade!

Many great things have come from being selected for the PDX Statup Challenge,
not the least of which was this amazing feature in the Huffington Post!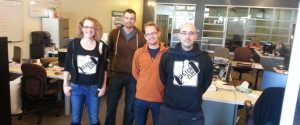 Silicon Forest: Portland Embraces Tech Startups

PORTLAND,
Ore. — Until they moved into their office on the ground floor of a former factory in an industrial zone known as Produce Row, the four founding members of a startup video game developer suffered a gnawing sense that they were a company in name only.

They had all previously worked together in a decked-out loft space on the downtown side of the Willamette River, in a hipster-yuppie enclave rife with fair trade espresso bars and artisanal chocolatiers. But their former company, a game studio, was purchased by a California firm, rolled into a giant Japanese gaming conglomerate, and then shut down. It was early 2012, and they were all suddenly jobless. So the group hatched a plan to start their own company: ClutchPlay Games LLC …
Read the full article, Silicon Forest: Portland Embraces Tech Startups on the Huffington Post!