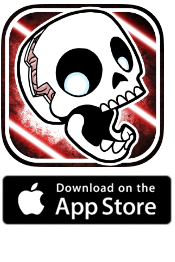 Hold on to your skulls!
ClutchPlay is pleased to announce that our newest game "Skullduggery!" is available TODAY as a universal app on iOS for iPad, iPhone, and iPod Touch, and is featured as the Apple Editor's Choice for the week of October 9th!
View the Launch Trailer
Download on the App Store
We sincerely hope you enjoy "Skullduggery!"
ClutchPlay Games is an independent game developer, located in not-so-sunny yet idyllic Portland, Oregon.  We make ridiculously fun games for the mobile devices (iOS and Android) as well as PC and Mac.  Our Co-Founders are veterans of EA, Maxis, ngmoco:) and 2K Games.  Between us, we have extensive experience developing original and work-for-hire titles using various technologies including Unity, Java, Objective C, C++ and our own native engine.
The company was founded in 2012, when the studio we'd all been working for was unceremoniously downsized.  At the time, it was the only major game studio in Portland
Our fist game, Little Chomp was selected as one six featured titles at the 2013 PAX East Indie Showcase.

Learn More…